Site Map & Guidelines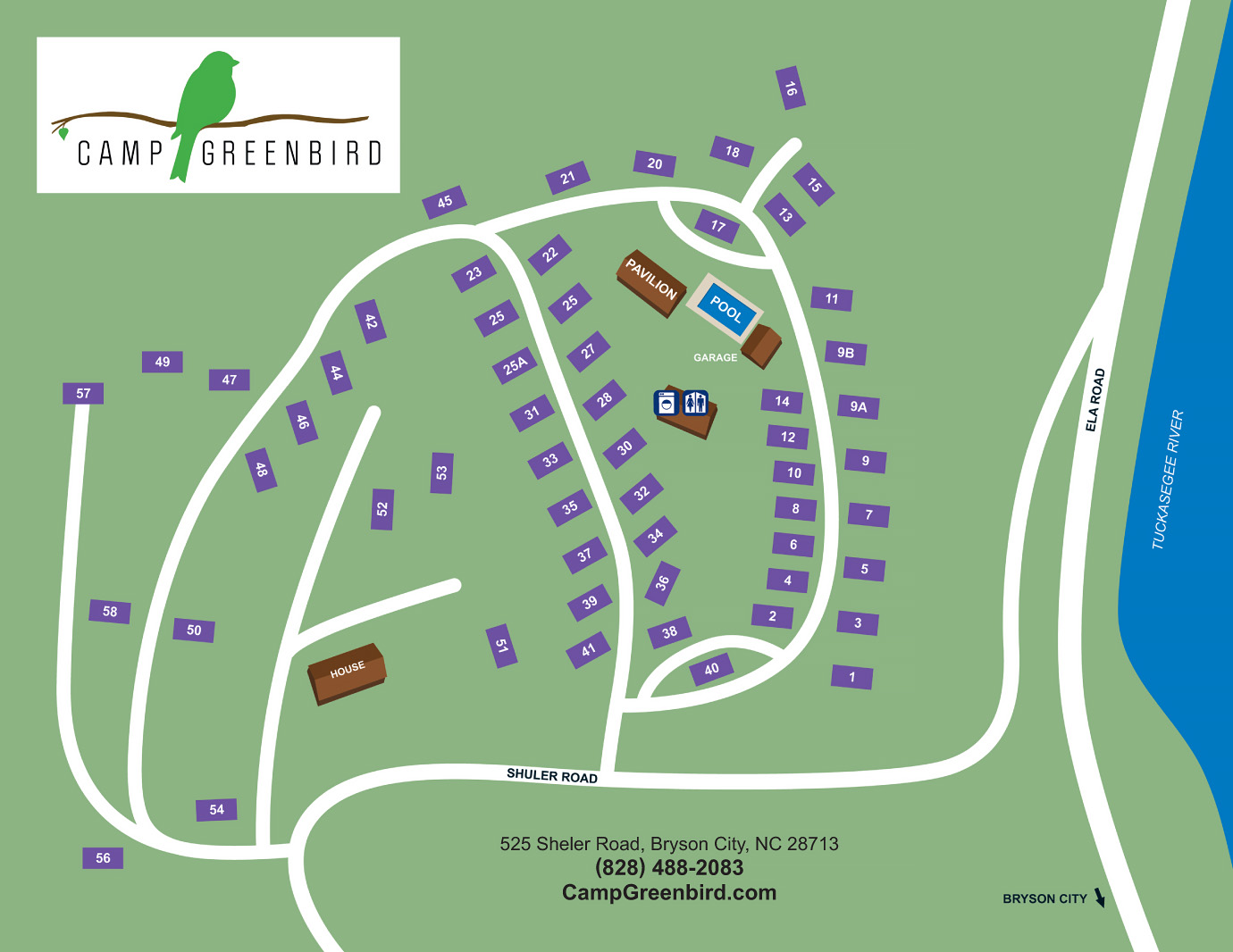 Click here to download PDF map.
Camp Greenbird Park Guidelines
For a pleasant camping atmosphere, Camp Greenbird requires following these guidelines.

All Units must be recreational vehicles by RVIA standards.

Speed limit is 10 miles per hour and the road is one way, please turn radios down when entering the park.

All buildings and the pool are smoke and vapor free.

All pets must be leashed - no excessive barking - owners must clean up after their pets at all times - pets are not allowed in buildings or in pool area. Visitors are not allowed to bring their pets. Pets are not allowed to be outside without supervision. Please do not leave pets unattended for long periods of time.

No littering, this includes cigarette butts.

No pressure washing or blowing on Sundays.

No soliciting or retail businesses allowed.

Quiet time is always- your activity should never disturb your neighbor.

Trash: The dumpster is for household trash only. Larger items should be taken to Swain County transfer station.

Site fees are due the first of the month and no later than the 5th. There will be a late fee of $10.00 a day thereafter.

This property shall not be used for any unlawful act that is in violation of any municipality, county, state or federal law.

No short term rentals. If you sell your unit and it is to remain on property, management must approve new buyers.

Camp Greenbird office hours are 10am to 6pm, text or phone call preferred. Please do not visit the residence of the camp manager for concerns unless unreachable via text or phone call.

Campfires: are to be in rings and never left unattended. Never burn in windy conditions.

Pool: The pool will be open Memorial Day weekend through Labor Day weekend. Please follow all posted rules. No day guest allowed the pool is for registered quest only. Pool hours are 11am to 6pm.

Do not wash clothes, dishes or utensils in the bathhouse.

No disorderly conduct, drunkenness or obscene language.

Golf carts: All drivers must have a valid driver's license and are responsible for all liability.

All sites must be kept tidy, outside appliances are not allowed. If it doesn't fit under your camper out of view or in your outbuilding, please do not litter your site with it. Washing your camper & golf cart is allowed, no cars or trucks washed on site as we are on a well.

If repairs are needed to your unit or storage shed, you will be given notice and a timeframe in which to get repairs done.

Yard Art (excluding planters) should be kept to a maximum of 10 items. These items may or may not be shifted during leaf pickup/mow days.

You are responsible for the upkeep of your decks and they must be maintained.

Any RV that is on the property on January first must be recorded with Swain County Tax Collector. We are required by law to list all RV's.

If you leave for extended time, please turn off your water at the spigot. Only persons, pets and vehicles listed on the application are allowed to occupy site.

Only one (approved) exterior storage building per site. No tarps on campers. Get management approval for all storage sheds.

You must provide and carry insurance on your camper/home at all times These guidelines are open to change as the owners see fit for everyone's comfort, safety and the overall appearance of the campground.

We appreciate your compliance with these guidelines. Failure to comply with any of these guidelines can result in termination of license with a 10 day notice.